TextBot – This AI Texting Chatbot Will Pay You $100 or $500 Over & Over again!
98% of text messages are read and 90% of them are read within 3 minutes!
IF YOU ARE NOT TEXTING TO GET LEADS & CUSTOMERS IN 2021 – YOU ARE LOSING MONEY!
This NEW AI Texting Chatbot will help you generate leads VIA PHONE & TEXT
while sending you $100 – $500 for EVERY SALE YOU MAKE of the software!
This is the ONLY texting software created SPECIFICALLY for home business & network marketing professionals!
– Generate leads for your primary business by simply inviting people to text or call a phone number!
   (It's already proving to be insanely effective with over 1M leads generated to date!)
– Send AUTOMATED text messages to your leads, promote anything you want to them.  Just assign a keyword for each offer you want to promote.  When they text this keyword to your TextBot number they will get an instant message from you promote your offer with a call to action (CTA).
–  TextBot holds real-time, human-like text message conversations with everyone that connects with her (She's called AVA by the way!). Yeah it's crazy! TextBot answers questions, delivers information and follows-up with your prospects in real-time.
– Get paid DIRECTLY for EVERY sale! ($100 – $500) (Our resellers have already been paid over $1M to date!).
The easy-to-use interface allows you to set-up unlimited marketing campaigns, each allocated with a separate keyword so that bespoke messages will be sent to your prospects for any website or offer you want to promote.
Now you can FINALLY Automatically deliver information to prospects VIA TEXT MESSAGE!
Seriously. You NEED to be texting your leads & customers and you need to be doing it with TextBot.
Get your time back while generating more leads & increasing sales!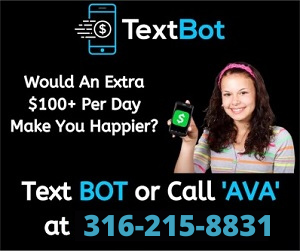 Learn more & get started at: https://terrywrightmarketing.com/chatbot
or CALL 001-316-215-8831