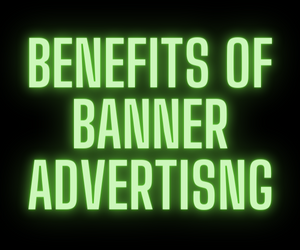 Benefits Of Banner Advertising
Banner advertising is a great way to reach a large audience quickly and at a lower cost than traditional advertising.
It's effective because it's highly visible and can be customized to reach your target audience.
Banner advertising is the most common form of internet advertising and is the most visible form of advertising on the internet. Banner ads are ads that are placed on websites across the web.  They are a great way to reach a wide audience, and can be very cost effective.
There are several types of banner ads, each with its own advantages and disadvantages.
Banner ads are typically short, simple, and designed to grab attention. They're also relatively cheap to create, making them a good option for campaigns that need a quick boost.
You can make them in a wide range of sizes, some of the most popular sizes are 125×125 pixels, 468×60 pixels, 728×90 pixels, 300×250 pixels, 120×600 pixels.
There are many places online you can create banners, one of the best is https://www.canva.com
Animated banners are a popular type of banner ads. They use a combination of graphics and animation to create a more engaging experience. Animated banners tend to be more effective than static banners, and they're also more likely to be remembered. However, they can be less visible on smaller screens.
Benefits Of Banner Advertising:  There are a few best practices to follow when running banner ads.
1. Make sure your banner ad is eye-catching and relevant.
Make sure your banner ad is visually appealing and relevant to your audience. If your banner ad is not visually appealing, it may not be seen as valuable by your audience, which could lead to lower click-through rates (CTRs) and lower conversion rates.
2. Test different ad formats and sizes.
You may find that different ad formats and sizes are more effective for reaching your target audience. Try varying the size, color, and placement of your banner to see which format produces the best results.
3. Use banner ads to promote your website content.
As well as using Banner Ads to promote your offers they can also be used to promote your website's content. For example, you could use a banner ad to promote a blog post or a page on your blog.
The above is just a short introduction to Banner Ads, I hope it has been useful to you!